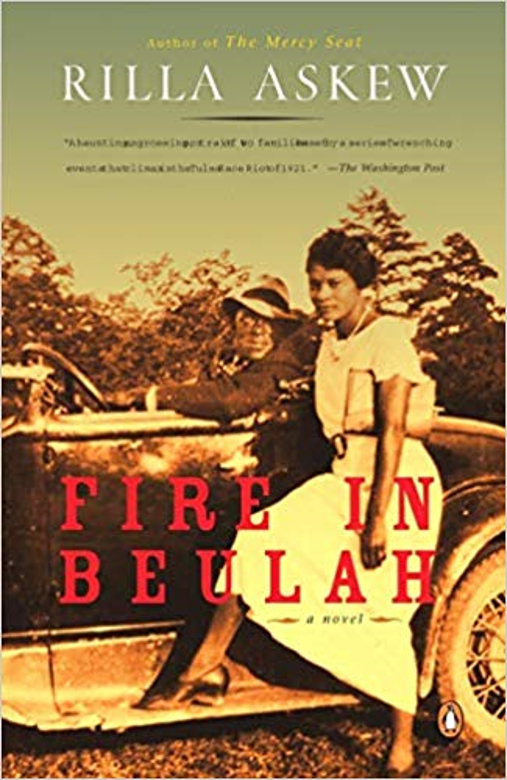 Backstory
In my essay "A Wounded Place," included in my collection Most American, I describe the long process of uncovering the facts of the Tulsa Race Massacre in a time of continuing white silence and intentional forgetting. There's also information on that in the short piece "A Secret History" I wrote for Alternating Current in 2016, located at the bottom of the sidebar.
I began researching and writing Fire in Beulah in the early 1990s when information about the massacre was hard to come by. The story was not a part of the national narrative, or the state narrative, or Tulsa's narrative. Of course I wanted to uncover the truth of what happened, illuminate the facts, tell why it happened in that place at that time. I also wanted to portray, from the inside, the sort of white prejudice, privilege, and presumption that gave fuel to the massacre.
Most readers will distance themselves from the overt race hatred of Klansmen and white rioters. More difficult is to recognize and own the layers of white presumption and privilege that are the inheritance of white Americans. Thus, in the novel, Althea is a difficult character. The searing language of racism, pervasive in the period, is laced through the book. No matter how one may wish for the characters to traverse the gulf of racial separation, bias, and suspicion America's history has imposed on them, they're of their time and place.
The theft of indigenous oil rights, and the character of Iola as the truthteller, are necessary parts of the narrative because that theft and violence (made widely known through Killers of the Flower Moon) are inseparable from the violence and greed that bred the assault on Black Wall Street, just as they are inseparable from all of Oklahoma's early story.
The lynching of Everett Candler is based on the lynching of a young Black man from Arcadia, Claude Chandler, who was taken from the Oklahoma County jail and lynched west of town the night after a young white man, Roy Belton, was lynched near Tulsa. These back-to-back lynchings on the last weekend in August 1920 set the climate of suspicion, violence, and fear that preceded the assault on Greenwood nine months later.
And finally a last note: James Baldwin has been one of the most powerful influences on me as a writer. Althea's unnamed obsession with Graceful is inspired by his lines in The Fire Next Time: "The white man's unadmitted—and apparently, to him, unspeakable—private fears and longings are projected onto the Negro. The only way he can be released from the Negro's tyrannical power over him is to consent, in effect, to become black himself, to become part of that suffering and dancing country…" Althea is seeking personal redemption, forgiveness for an unspeakable sin for which she's never atoned. Her hunger is akin to Americans seeking redemption for the layers of institutional and cultural racism that haven't been atoned and so continue to roil and wound our country today.
 
The Riverfront Times
 
On the evening of May 31, 1921, in Tulsa, Okla., a mob of whites congregated in front of the city jail, where an African-American man was being held for assaulting a white woman. Although the "assault" had consisted of the man's accidentally stepping on the woman's foot, it was a severe enough violation for him to be arrested and more than enough for rumors to spread throughout the city and beyond about a black man's having raped a white woman.

Two lynchings had recently taken place in Oklahoma -- of a white man in Tulsa and an African-American man in Oklahoma City -- so there was bloodlust in the night air, on both sides of the tracks that divided Tulsa's blacks and whites. A group of African-American men began to congregate on the north side of the city, known as Greenwood, an urban enclave W.E.B. Du Bois had called "the finest example of Negro self-sufficiency in the United States." These men formed their own haphazard militia, gathered up the guns they had and headed toward the jail in white Tulsa.

These were the events that touched off the most violent race riot in American history. By the end of the next evening, June 1, Greenwood had been burned to the ground. Hundreds of "deputized" white Tulsans led an assault across the railroad tracks, murdering African-Americans indiscriminately. Those fortunate enough to survive the "ethnic cleansing" were either corralled in makeshift concentration camps or escaped by fleeing farther north of town.

In the aftermath of what novelist Rilla Askew refers to as a "pogrom" was silence -- a silence that lasted until the late 1980s, when stories of the Tulsa race riot began to emerge. Today, there is even a Tulsa Race Riot Commission funded by the state Legislature, with a report due out this week, examining the facts of the riot and determining whether reparations should be made to the few remaining survivors.

But until Askew read a reference to the riot in Richard Wright's autobiography in 1989, the native Oklahoman had never heard of such an event. From that moment, however, "It just settled in me like complete, absolute knowledge that this was going to be the subject of a novel," says the author during a book-tour stop in St. Louis. "From that point in 1989 until I finished last May [2000], in some way or other my life was geared toward that."

The novel, Fire in Beulah, has just been released, appearing on the eve of the 80th anniversary of the riot. The book delves deeply into the troubled history of blacks and whites in America, emerging with scenes so poignant and painfully rendered as to inspire comparisons with the greatest chroniclers of the race line that snakes throughout our history: Ellison, Baldwin, Morrison. Not unlike those writers, Askew finds a complex interrelationship that contains, as she writes in her novel, not just "one truth, but many truths, passing back and forth between them, so powerful, so full of hurt and love and sorrow."

Fire in Beulah centers on the relationship between Althea Dedmeyer and Graceful Whiteside. Graceful is African-American, living and working at the Dedmeyers' as the house servant. Althea is the white matron of the home, insulated by what Askew, who is white, refers to as "the presumptions of whiteness." Graceful keeps beneath her laconic mask a conflicting storm of anger and affection; Althea is selfish, materialistic and manipulative but harbors secrets that would dissolve the façade of Southern gentility she works so strenuously to maintain. Althea at times loathes her slow-moving servant, but when Graceful leaves her employ, Althea grows obsessed with her, although she cannot articulate the longing that is the source of that obsession.

With these two the fulcrum of her story, Askew explores an American frontier in the midst of the oil boom, where greed makes for an environment in which murder is nearly commonplace. A Native American woman with the illustrative name of Iola Bloodgood Bullet Tiger lends her voice to describe the actions of oil speculators in terms that won't be found in textbooks: "God's the one create the power, yes, but He bury that force deep where we can't get to it. Don't that make you think we not supposed to get to it? God didn't open up them holes in the world and unleash that power for a hundred years. Man done that, and it is not Satan's power he unleash, though some will tell you so. It's not human evil either, though it is surely enlarged by man's sin, nursed with sin till it get to be so powerful it want to tear the world asunder. The name of one sin that gorge that force like a baby: greed."

In Fire in Beulah, Askew constructs a polyphony of voices that join in a dissonant chorus as apocalyptic forces fall on Greenwood. They are voices that have welled up from 80 years of silence. How did such a human catastrophe stay buried for so long? "Some have called it a 'culture of silence,'" says Askew, "and some have called it a 'conspiracy of silence.' It's certainly true that Oklahoma, and Tulsa particularly, would not want to pay attention to it. I spoke with the mayor of Tulsa, Susan Savage, not too long ago, and she said in her opinion and her understanding of it there was no actual conspiracy of silence; eyes just went elsewhere. Not long after that was the Depression, and we were dealing with that. And then World War II. We moved on.

"But I grew up there and never heard a whisper all my life. When I first began researching it, I went to the public library, and those days are gone from the newspaper archives in the Tulsa Public Library. You go through the microfiche and scroll through, and those days surrounding the riot are gone. Somebody wanted to keep it hidden."

Askew does not see the silence surrounding racial violence as particular to the Tulsa race riot, however. "It's completely symbolic of what we've done in our nation," she says. "It's the reason we cannot get beyond race -- because we have not dealt with race. We haven't dealt with our past, and we haven't dealt with the racial violence in our past.

"We haven't dealt with lynchings. I didn't know that much about lynchings. I knew there was an era when they used to happen. I had a film understanding of lynching. I had no idea how horrifyingly sadistic and cruel they became, especially in the '20s and '30s, after World War I. So many burned alive and flayed and dismembered -- horrifying things. I didn't know about that. We don't know unless we go back and look at it."

And in looking back, what is seen is an America of greater complexity than the traditional historical whitewash: a nation that denies its shame, its betrayals and its longing. Askew agrees with James Baldwin's equation: Blacks go to whites in search of power; whites go to blacks in search of love. "He knew us. Gosh, he knew us!" Askew exclaims.

"Slavery was as degrading for the slave owners as it was for the slaves," she says. "We know that, but this unexamined history, and the unexamined nature of race, continues to hurt white America as much as it hurts black America. We're not ready to acknowledge that, either. We don't know how. We don't even know how it's hurting."

Askew, who left Oklahoma at 18 for New York City, dead certain she wouldn't look back, is now in her 50s and dividing her time between the Catskills and the San Bois range near the home she escaped. She laughs at her adolescent annoyance toward the home to which she now feels so bound. For one so drawn to telling an unflinching, yet redemptive, story of America, there may be no better setting than Oklahoma. "It's been said that anything that could possibly happen in America happened in Oklahoma in about 15 minutes," she says. "It's a fascinating history. It's black, white and red. The black-white-red story is the American story and has been until this point. There's going to be a new story in the future, but we ain't finished with that old one yet."
--Eddie SIlva
 
Black Issues Book Review (January 2001)

 
Askew has crafted a gripping drama, infusing this novel with the rich details of human dilemmas--greed, power, secrecy, sibling rivalry. Althea Dedmeyer has escaped a difficult childhood and marries an oil wildcatter. Their pursuit of wealth and the ends towards which it drives them, are situated within the difficult relationship between Althea and Graceful Whiteside, a daughter of the successful, all-black town of Greenwood, who must eke out an existence of life as a domestic in a white world.
Fire in Beulah also addresses the "problem" of race in the 1920s, and the changing notions of blackness and whiteness. Set in Oklahoma, during the "black gold rush," Askew tells the story of two women's lives and how they are intertwined with the events leading up to the Tulsa Race Riot of 1921.
Askew adeptly shows the hardships and heroicism of her characters' lives. There are no pat machinations here, and Fire in Beulah is unflinchingly brutal--the author notes, "... the incidents of racial violence are real; they took place almost exactly as described." Askew's characters are complex, fraught with those concerns, tendencies and motivations that make us the best and worst of who we are. Ultimately, as the story whirls towards its maddening, surreal climax, Fire in Beulah touches on the substance of morality and the composition of the human spirit, underscoring the fact that our lives transcend perceived boundaries.
--Doug Jones