Prize for the Fire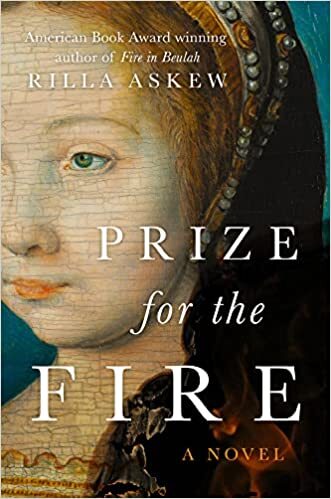 HOLIDAY SALE
OU Press is offering a holiday sale of 40% off PRIZE FOR THE FIRE. Click on the cover image to the left to order. Use promo code 18hldy22 at checkout. A great gift for the historical fiction lovers on your list--all the more so if they're mad about the Tudors! I'll happily send personalized signed bookplates upon request. Just let me know by using the Contact link in the menu above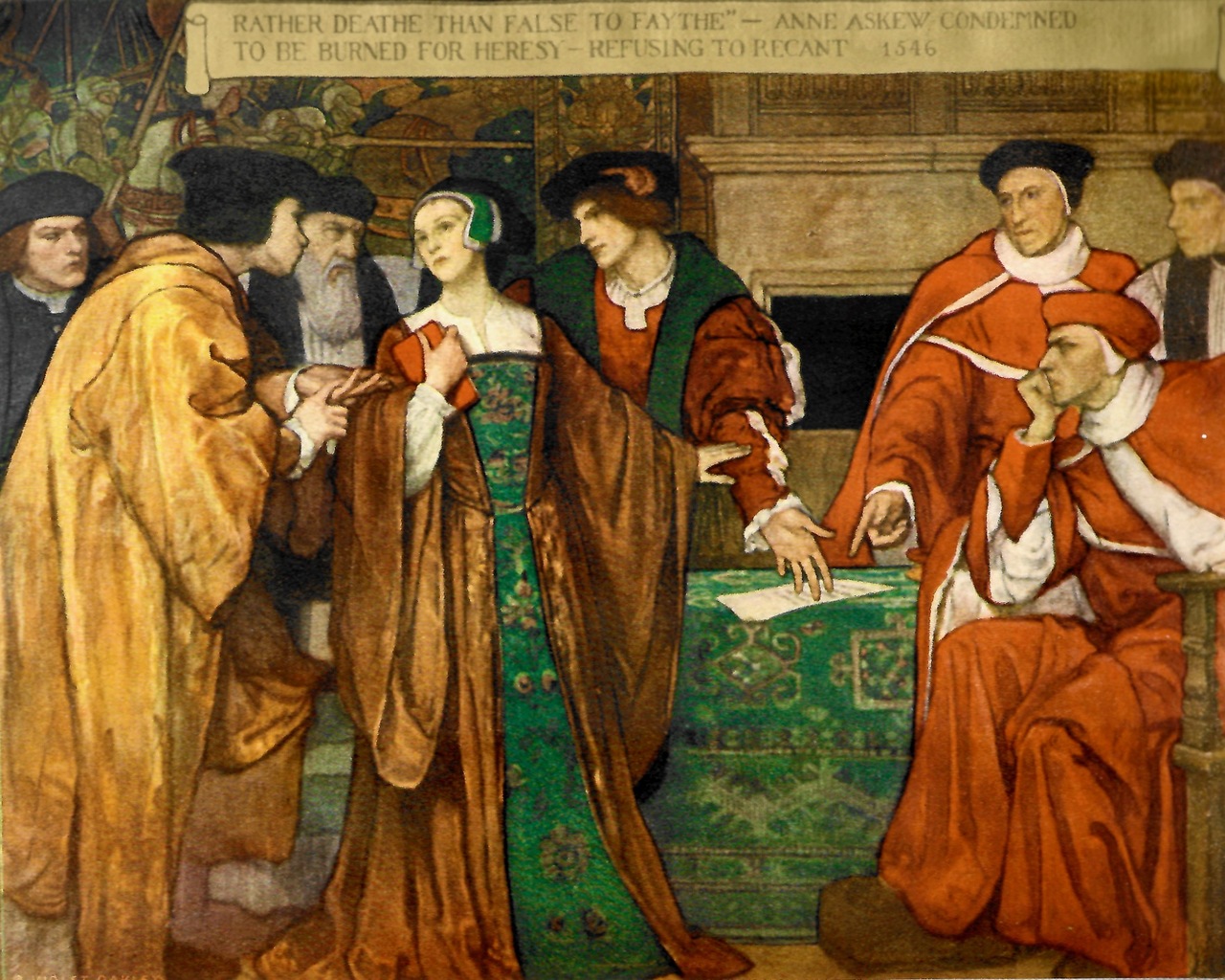 Portrait of Anne Askew in the Governor's Reception Room at the Pennsylvania State Capitol. The text below the mural reads: "Anne Askew before the Lord Chancellor, condemned by the State, under Church of England Authority, to be burned for Heresy—refusing to recant—saying 'Rather Deathe than false to Faythe.' 1546. She was selected as a type of the Women who were ready to die for what they believe to be Truth. According to tradition she was the great-grandmother of Margaret Askew Fell, who became the wife of the Found of the Quakers—George Fox. It was from her that Margaret Fox was supposed to have inherited her marvelous spirit of endurance under persecution."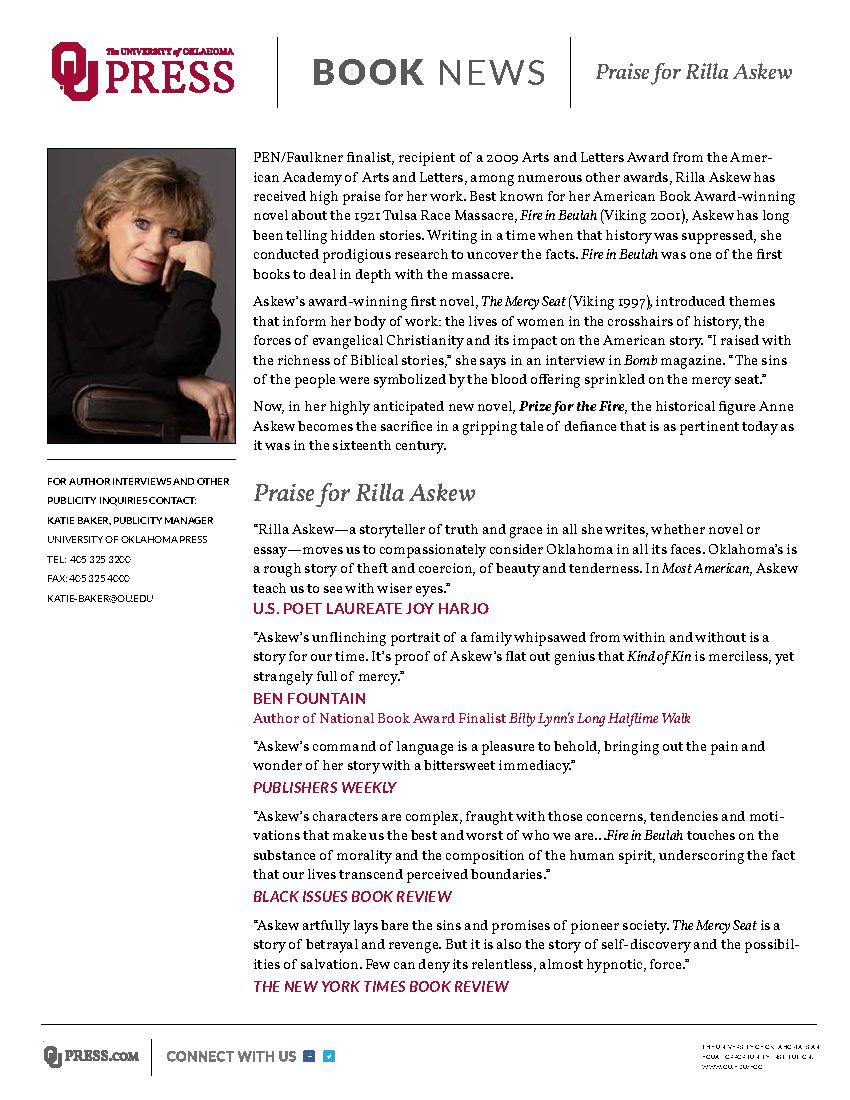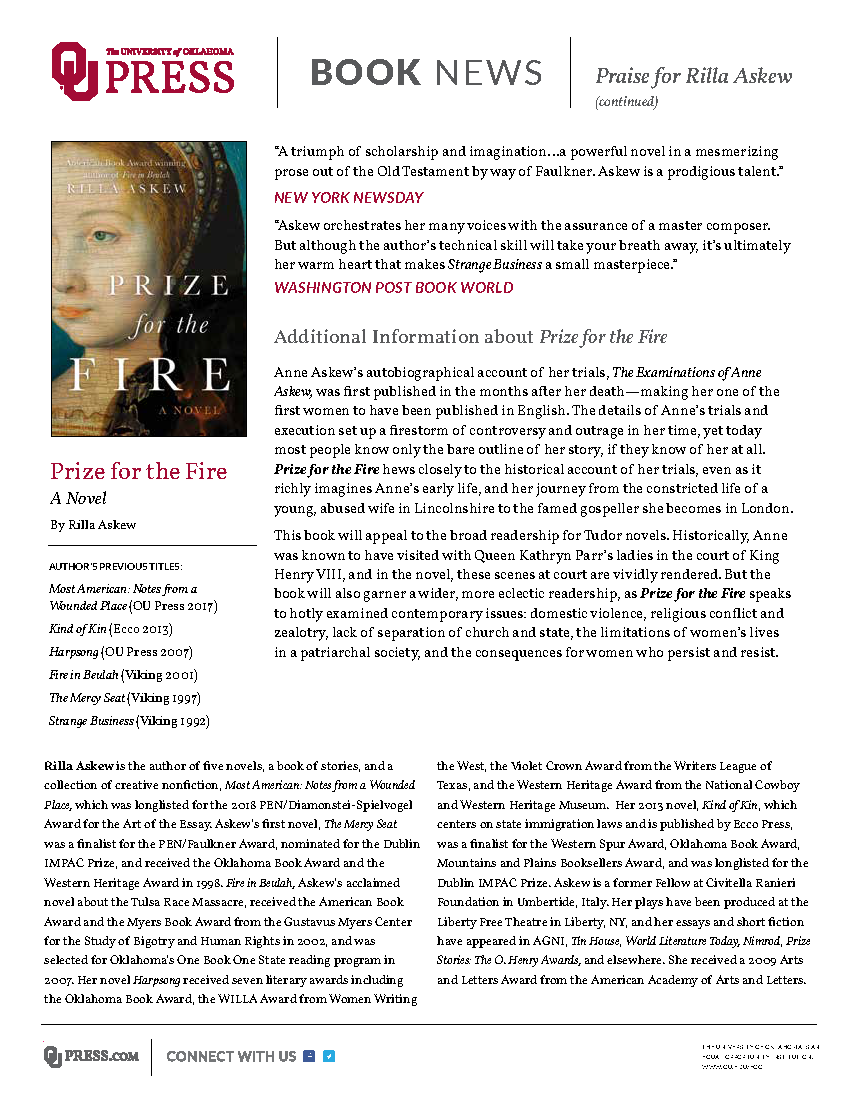 Lincolnshire, 1537. Amid England's religious turmoil, fifteen-year-old Anne Askew is forced to take her dead sister's place in an arranged marriage. The witty, well-educated gentleman's daughter is determined to free herself from her abusive husband, harsh in-laws, and the cruel strictures of her married life. But this is the England of Henry VIII, where religion and politics are dangerously entangled. A young woman of Anne's fierce independence, Reformist faith, uncanny command of plainspoken scripture, and—not least—connections to Queen Katheryn Parr's court cannot long escape official notice, or censure.
In a deft blend of history and imagination, award-winning novelist Rilla Askew brings to life a young woman who defied the conventions of her time, ultimately braving torture and the fire of martyrdom for her convictions. A rich evocation of Reformation England, from the fenlands of Lincolnshire to the teeming religious underground of London to the court of Henry VIII, this gripping tale of defiance is as pertinent today as it was in the sixteenth century.